The Twenty-five Shakedown.
I just posted on a local Buy Sell Trade FB page, stating what I 'needed' (i.e., hutch, long desk, door etc.). The backstory is my family and I still remain *homeless & jobless for the most part because of the after effects of the Dec. landslide in Haines, AK. Recently my coMedium friend, Meghan Hart, graciously offered to sign me into her office space so, in gratitude and a hint of design OCD I begged her to let me design her space. In working with our vision (turn of the 20th Century – past life memories) I've been looking for antique furniture and picture frames, creating a collage of 1900's Mediums among other esoteric practices.
This all started unbenounced to me actually the day before when my friend Edie, reminded me again that there was a gift of sorts awaiting Haines Disaster Victims at Talia's Treasures (thrift store). She repeatedly reminded me to go there.
Thur. morning came and I saw a nightstand for sale, by my friend Susie, and jumped on it because those who live in Haines, Alaska know that IF you find something you like, you get it asap as good used furniture is hard to get here. So, I claimed it, then asked Susie if she accepts Venmo. And this is the beginning of how this story created itself.
I preferred to do Venmo instead of cash because I didn't have any cash on hand that I knew of and even the thought of that felt lacking, so I didn't want to 'feel' money in a sense. Funny how that works. Upon asking which she would prefer, I didn't hear her response. So, I surrendered it, letting the Universe lead and said to myself, "cash it is!". I dug in my husband's wallet (with consent) to surprisingly find $25. Pleased with this abundance, I put the $25 bucks in my pant's pocket. I did not know they had huge holes in them – both pockets, as these pants were given to me by way of local donation since I didn't have anything including clothes after the landslide. I then drove to Susie's house and went to give her the cash but when I reached in I found nothing. "Oh no, I have holes in my pockets", I gasped! (Oddly enough I NEVER put anything other than a tissue in my pockets.) I sweated it out a bit, but knew she would be gracious no matter what happened. Then I reached into another pocket, and found $5, then $10, then $5, then another $5! I was shocked. I rarely have cash, but now I have exactly what I need to give her?!? Miracles!
As we chatted a bit, she asked what else do I need? I spoke of furniture and such and then she brought me to a room where she looked for picture frames. Looked and looked but turned out someone else must have bought them. I actually felt a bit of happiness, knowing how aligned everything is. So, upon leaving she mentioned she's going to Talia's and again I was reminded to do the same.
I felt the rush of going and finding what was calling me, but knew to take my time because EVERYTHING is always on time. I went back home for a moment because I remembered I had wet clothes in the community washing machine. So, I looked briefly around the parking lot for my missing $25 that must of slipped out my holey pockets. But nothing was there. Then up the stairs, I smiled thinking how this is going to turn into a great story and I can't wait to see where it leads. I finished the wash and walked over to Talia's Treasures. Then Susie is there instantaneously holding the door open for me in divine timing. I ran into many folks, all intrinsically tied to this story but too long to write about. I completely forgot about the fact I needed picture frames, I then I looked down and noticed some right there! Gathering exactly what I needed, I put my stash on the counter, going back and forth, careful not to spend too much money.
While looking at a few other items before checkout at Talia's Treasures, I overheard a man who just came in, talking about how he wants to sell many household items and Tammy (@Talia's) whispers to him, there's disaster victims that could sure use it. I say a thank you in my mind, for all of it, enjoying the synergy of perfect placement – much like design work. I then venture to checkout only to find Tammy already ringing up the picture frames and items that I placed to the side. My heart sinks a tiny bit as I wanted to relook through them, calculating what it's going to cost me, making sure I can spend that much money prior to buying. Again, I surrender, knowing nothing is in my hands, so just go with it.
As I talk to Tammy, I sutter in embarrassment inquiring about a discount my friend Edie told me about at Talia's Treasures. But at this point in my life, I have nothing, so I have no choice but to ask. Tammy smiles and says, "yes". So, I stood there questioning what 'yes' means and ask, "is there a discount?" "No", she says, "there's many folks who have credit here from selling their items previously and they've donated their credit to help you all." "Oh whoops, maybe I shouldn't of told you one of them is Edie", Tammy chuckled. We laughed. We teared up. I share with her the importance of why I'm here as these items are for our office. I say, "I'm here because in having nothing, I've been opened to everything and that's how I guess it works. My husband and I work at home and besides our home that is *gone essentially, insurance doesn't cover anything as it's filed under the 'act of God', our offices were also there at home." So, now I'm branching out, which is REALLY hard for me because I was always under the assumption that it's easier for me to work alone. But when forced essentially to break free from that mindset, I just got GRACIOUSLY offered office space to rent, create a psychic podcast with my bestie, and so much more AND on top of it, I get the freedom to design it from the ground up! This is a dream, but I didn't dream it. I wouldn't have, I couldn't have. That's the kicker! It's outside of my comfort zone in thinking what I 'want'.
So, I walk home to tell my husband about the story of $25 dollars. I barge inside, crying in gratitude trying to tell this story to Steve, my husband, but also trying to now find my 25 cent coins to finish doing the laundry. I find them and put a handful of coins in my holey pants pocket, AGAIN! We started laughing, as now the coins are falling out of my holey pants, cha- ching, cha-ching down my leg, as I shake my money maker like a slot machine, and then guess what else fell out? The 25 dollars! We look at each other, crying-laughing in astonishment.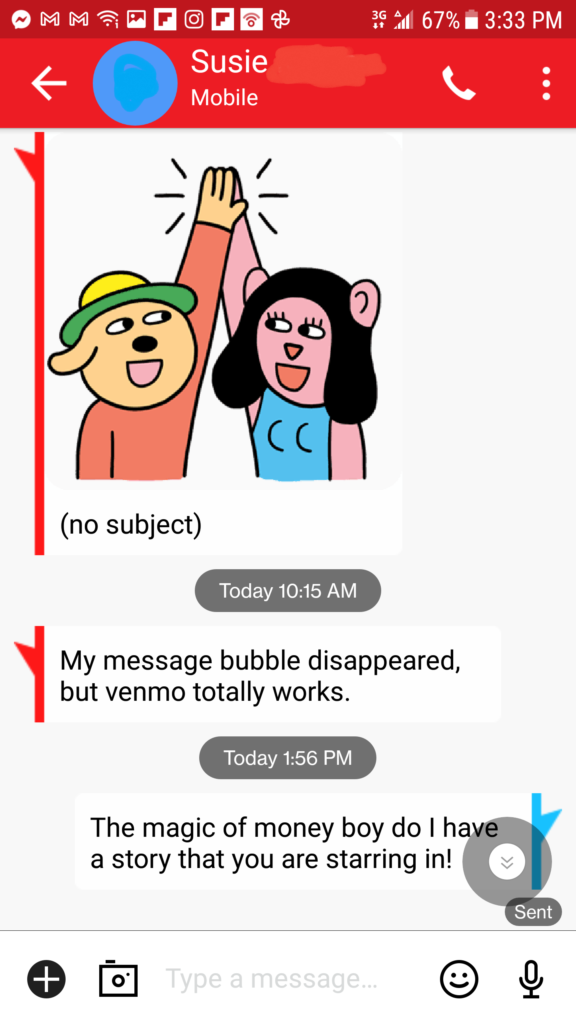 Side note: I got a delayed message from Susie hours later saying, "My message bubble disappeared, but Venmo totally works." Boy am I glad I didn't get that message, so this could happen in the way it did!
This is it. This is the Universe in its workings. It is gentle, always kind. I had to FEEL cash in hand to understand it. I understand through this experience it's only our beliefs thinking the universe is harsh. And through this I've found that's farthest from the truth, even when it hurts. The question is what is actually hurting, which part of you? The ego? The pain of not being able to accept 'what is'? There's ALWAYS, in my experience, a bigger picture. Pain is still real and valid, it always will be, that's part of our human experience. But we can go through it, while being led by something much bigger. Everyone and Everything is a Messenger. That, you can trust in. <3
Sidenote: While I'm writing this story out, I'm at my friend Laura's place of business, The Magpie Gallery, and also where my son's art class is being held. There's music playing in the background and I cringe a little trying to focus on what I'm writing in this story thinking it's so important, only to laugh at myself in saying, "stop writing and listen to the lyrics"!

The music playing: "No you just have to wait…..It's a game of give and take." These were the only parts of the lyrics I could understand even though the music was loud enough. And then after this, as for more validation I hear, "ding, ding". Which is a sign that I use for when I'm 'getting it' (the message). Laura shared with me afterward, when I read her this story, prior to posting, that at that exact song, she thought to herself, "oh this might be too loud for Vanessa" but instead of thinking of turning it down she intuitively got, "oh there's something else at play here". Indeed there was!
En-joy!
Vanessa Wishstar, Intuitive Medium & Spirit Guide
www.VanessaWishstar.com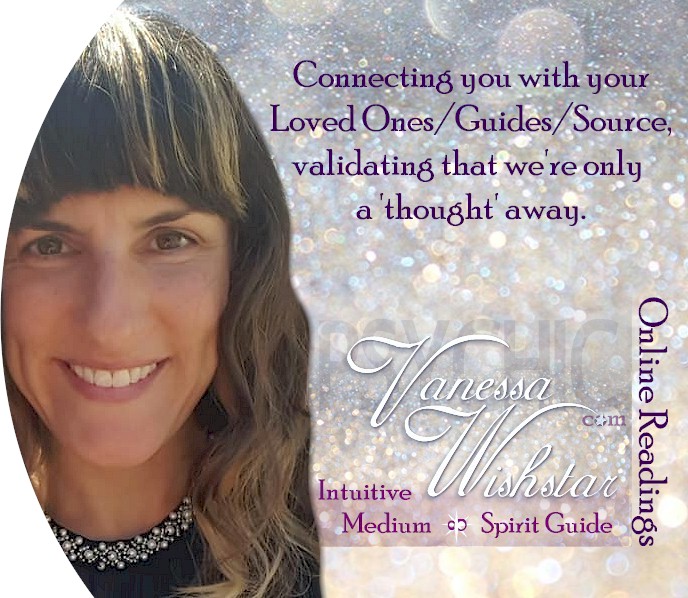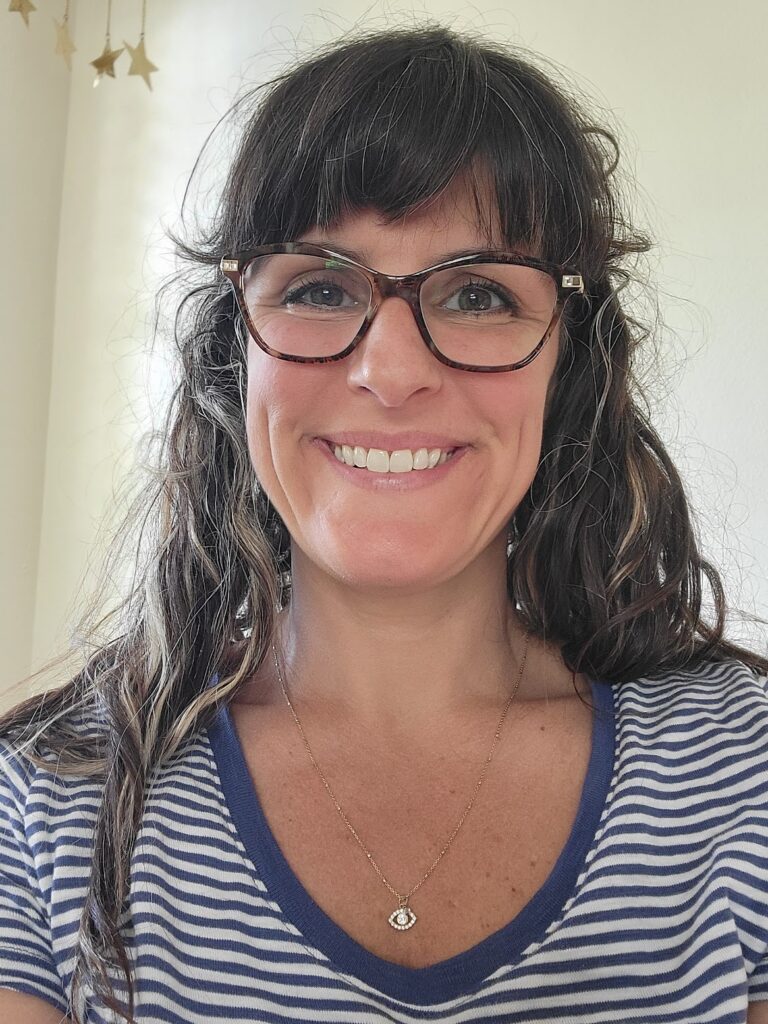 Bio: I am a seafull of mountains always seeking the truth, a mystic-called dragon, a psychic phenomena(l) goddess who births stars and makes wishes on their dust. I just love being me. And you being you.
I live in remote, pristine, Alaska and also the regenerative healing waters of Florida, discovering how life is meant to be loved. My husband and two children are my entire universe in which we frolic about, living out this dream. "Live on purpose", I say!
Vanessa Wishstar, Psychic Medium, Spirit Guide, Supernatural Writer